by Anshu Lukka |

May 15, 2023
What are the key factors to consider when selecting mortgage outsourcing services?
Outsourcing loan processing is a smart move for mortgage broking firms looking to increase efficiency and focus on growing their businesses.
By delegating mortgage outsourcing services to an experienced third-party provider, brokers can save time, reduce costs, and improve customer satisfaction.
However, selecting the right loan outsourcing partner is crucial to achieving these benefits. With so many providers in the market, choosing the best partner for your business can take time and effort.
In this blog post, we will discuss the key factors to consider when selecting a mortgage outsourcing services partner and provide tips for choosing the best one.
We will also highlight our company's unique approach as a Sydney-based outsourced mortgage processing service provider specialising in loan processing and back-office activities and how we can help mortgage brokers succeed in the Australian market.
Key takeaways
Find a reliable and experienced loan processing partner with tailored services.
Utilize the latest technologies to streamline the mortgage processing process and improve accuracy.
Ensure regular communication with clients to address any concerns or issues throughout their loan cycle.
Look for a mortgage processing partner that is committed to innovation and staying ahead of industry trends.
With our commitment to innovation and customer service, Brokers' BackOffice can help brokers close more loans and grow their businesses.
What factors to consider when selecting a mortgage process outsourcing partner?
As a mortgage broking firm, you aim to provide your clients with the best possible experience and ensure that their loans are processed efficiently and accurately. However, with the high volume of mortgage loan applications, managing loan processing can take time and effort.
This issue can be effectively handled by outsourcing loan processing. But selecting the right mortgage outsourcing services is crucial for your mortgage business success.
Experience and expertise in mortgage processes

Selecting the proper mortgage outsourcing services partner entails examining their experience level in the industry. The more years they have spent in the market, the more domain knowledge they possess to navigate the complexities of the industry. Ensuring that the loan outsourcing company you partner with has extensive domain expertise and a solid understanding of industry best practices is crucial.

Furthermore, an experienced mortgage processing partner will have well-established processes, tools, and methodologies to optimize the mortgage process. Their in-depth industry knowledge ensures that their team thoroughly understands mortgage compliance requirements, evolving regulations, and changing mortgage mandates.

Evaluating technology capabilities

In today's mortgage industry, a robust technology infrastructure is not only a valuable asset but a fundamental necessity. When selecting a mortgage outsourcing partner, it is necessary to prioritize the provision of cutting-edge technologies that enhance the customer experience and improve decision-making accuracy.

By leveraging advanced technologies, all stages of the loan application cycle can be accelerated, and manual processes can be replaced with faster, more accurate automated processes. Mortgage outsourcing partners must utilize sophisticated automation solutions to streamline risk assessment, anomaly detection, loan performance forecasting, customer query response, and loan document accuracy.

In-depth knowledge of mortgage regulations, compliance, and best practices

Maintaining compliance with regulatory standards and industry protocols is crucial in the mortgage industry to avoid penalties and maintain a positive reputation. When choosing a mortgage outsourcing partner, it is essential to ensure that they possess a comprehensive understanding of government guidelines related to mortgage compliance.

A reliable outsourcing partner will have a team of highly skilled professionals that operates precisely, efficiently, and within the boundaries of regulatory requirements. In fact, the best partner will establish optimal configurations and workflows that guarantee compliance at every stage of the mortgage process, from mortgage origination to post-closing.

Improving closing success rates

Another critical factor to consider when selecting a loan processing services provider is their ability to support you in improving your closing ratios. There are several procedures and timelines involved before a loan can be considered closed, and there is always a chance that a borrower may withdraw their application at any stage.

The third-party service provider should have processes in place to help identify and resolve issues that may delay or derail the loan process. They must provide timely and regular updates on the status of the loans, allowing you to track the progress and ensure that your loan documents are processed efficiently and that you can close more deals.

Customizable pricing models

Cost is an important factor to consider when choosing a mortgage process outsourcing partner. Finding a partner that offers flexible pricing options that align with your budget and business development is essential. When evaluating the operational costs option, you should also consider the service quality.

A dependable partner will work with you to determine the pricing model that best fits your needs and should also be open to adjusting the model as your business evolves. Furthermore, they should provide transparent pricing with detailed invoices to ensure you know what you are paying for.

Prioritising communication and service excellence

Effective communication and customer service are critical when outsourcing loan processing. You want to partner with a company with a responsive and knowledgeable customer service team that can promptly address any concerns or issues.

They should also provide regular updates on the status of your loans, ensuring that you are always up-to-date on the latest developments. They should also be available to answer any customer queries.

Scalability and adaptability to meet your future needs

Finally, you want to partner with a mortgage outsourcing company that is flexible and scalable. They should be able to adapt to your changing business needs and provide additional support as your business grows.

Whether you need to process a few loans or a large volume, your partner should be able to handle your needs efficiently and accurately.

Please consider these vital factors when choosing mortgage outsourcing services, and make sure that the partner you select can meet your business needs and provide the necessary support to help you succeed.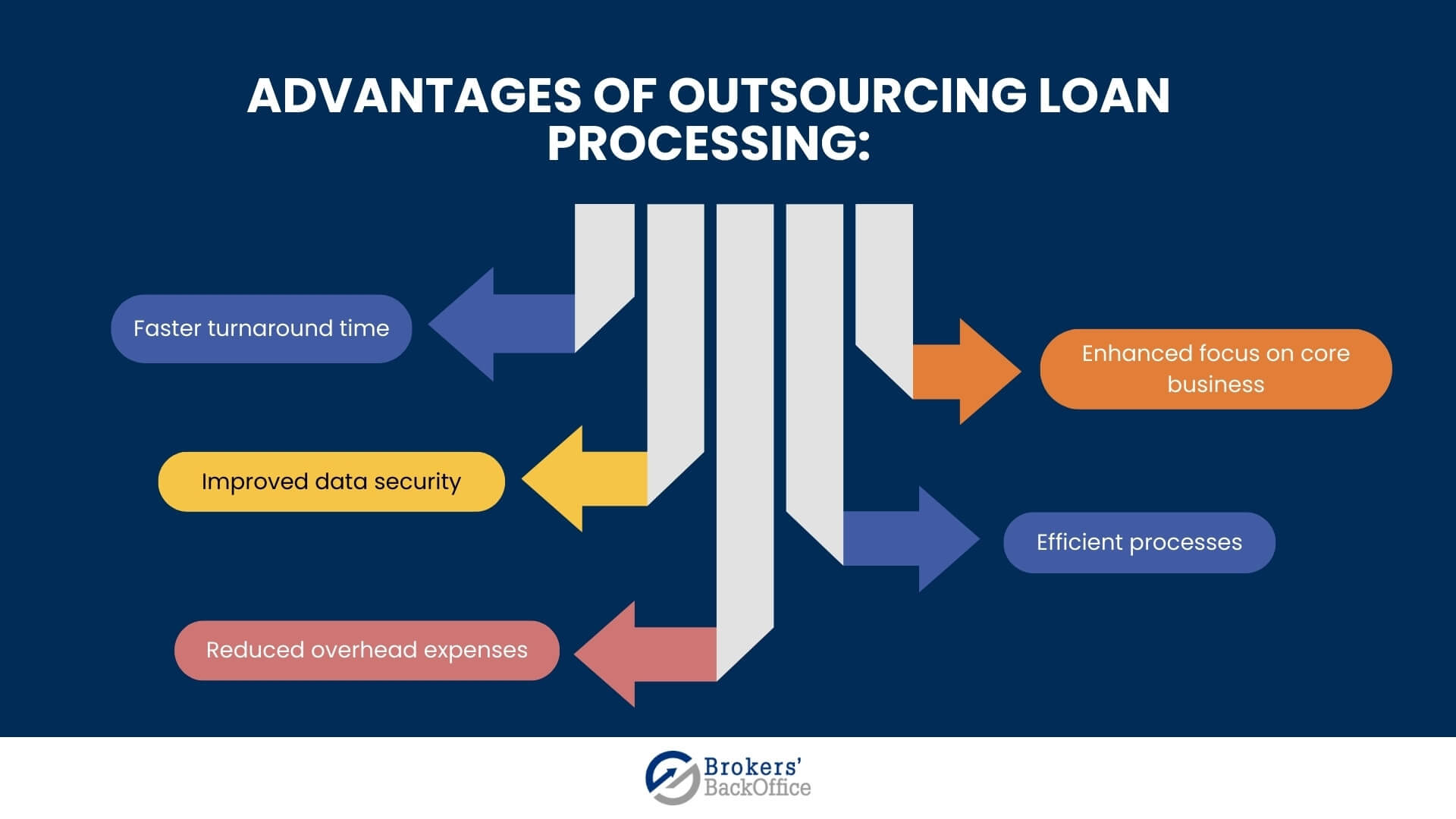 Why is it important to choose the correct mortgage processing partner?
The benefits of choosing the right partner for external loan processing solutions include:
They can help you close more loans and increase revenue.
Choosing the apt partner can ensure that your outsourcing mortgage loan processing documents are accurate and comply with industry regulations.
They can provide ongoing support and training to help you improve your processes and grow your business.
Outsourcing with an experienced provider can help you save time and resources.
A trustworthy mortgage processing partner can help you build a loyal customer base.
Moreover, they can give you access to the latest technologies and innovations, giving you a competitive edge.
What to look out for when outsourcing mortgage loan processing?
Red flags to watch for when choosing a mortgage outsourcing partner:
Lack of transparency in their loan processing procedures
Poor communication skills and unresponsiveness
Inability to meet deadlines or handle high loan volumes
Inadequate technology infrastructure and outdated software
Unreliable or inconsistent quality of loan processing
Limited experience in conducting specific types of loans
Hidden fees or unexpected costs that can impact profitability
Lack of compliance with regulatory requirements and guidelines
Limited availability of customer support or account management
Unwillingness to adapt to changing market trends and customer needs
Why is Brokers BackOffice the best choice for mortgage process outsourcing?
Our team of 70+ highly qualified members includes seniors who are members of MFAA, ensuring that we have the knowledge and experience needed to handle any mortgage processing task.
Furthermore, all our in-house team members hold the requisite degrees, expertise, and experience to provide excellent loan processing services that surpass your expectations.
We are an ISO 27001-certified company, which means that we take data security very seriously. Our advanced technology and strict security protocols ensure that your data is always safe and secure with us.
We understand that every business has unique needs and budgetary considerations. That's why we offer a flexible service plan that can be customized to fit your specific requirements.
Our pay per application model allows you to pay based on the number of applications processed by our team. We have three different service packages available: Basic, Lodgement, and Follow Up, giving you the ability to choose the one that best suits your needs. There is no monthly minimum volume nor any long-term binding contractual commitments in this model.
We also offer the option of hiring a dedicated team member who will work as part of your team. Our fully trained and dedicated team loan processing officers are available for hire on a part-time or full-time basis for either 20 or 40 hours per week. This gives you the flexibility to choose the support level you need while controlling costs.
We specialize in leveraging cutting-edge technology like sophisticated automated tools such as artificial intelligence, machine learning, FactFind, cloud-based document management system, digital signature, etc., in helping automate processes like risk assessment, anomaly detection, etc. This guarantees swift and precise processing of loan requests.
But don't just take our word for it - our data speaks for itself. Our clients have reported an average reduction in processing time of up to 50%, leading to significant cost savings and increased revenue. Additionally, our accuracy rate is over 99%, ensuring that your business is always in compliance with industry standards.
When you partner with us, you can rest assured that you are getting the best mortgage process outsourcing services available. Let us handle the administrative tasks so you can focus on growing your business.
What sets us apart from the rest of the outsourcing mortgage companies?
At our Sydney-based outsourcing firm, Brokers' BackOffice, we believe that each client has unique needs and requirements. Therefore, we tailor our services to meet those individual needs.
We understand that a one-size-fits-all approach doesn't work in the mortgage industry, so we work closely with our clients to understand their specific requirements.
In addition to customised processing services, we provide our clients with ongoing support and training. We recognise that improving processes is a continuing process, and we are committed to working with our clients to help them close more loans and keep their loyal customer base happy.
We pride ourselves on our continuous improvement and staying ahead of industry trends. We utilise the latest technologies to streamline the mortgage processing process and improve accuracy.
We stand out from the competition with our strong industry standing and credibility, having been recognised and approved by the majority of aggregator groups in Australia.
We understand the importance of staying ahead of the curve and are always looking for ways to improve our loan processing services and provide the best possible outcomes for our clients.
Final word
Selecting the right mortgage outsourcing services is essential for the success of mortgage broking firms. With a trustworthy and experienced partner like Brokers' BackOffice, brokers and mortgage lenders can ensure accuracy and compliance in their loan processing, save time and resources, and ultimately grow their business.
At Brokers' BackOffice, we are committed to providing the best mortgage process outsourcing services in Australia. We stand out from the competition with our highly experienced team, advanced technology, flexible pricing options, and dedication to client satisfaction.
Don't wait any longer to experience the benefits of partnering with us - contact us today to learn more and take your business to the next level!