by Anshu Lukka |

Apr 28, 2023
Revolutionise your loan processing workflow: Leveraging technology for efficient offsite loan processing
Introduction
In the highly competitive mortgage industry, every advantage counts. As a mortgage broker, your success depends on your ability to provide your clients with fast, accurate, and reliable loan processing services.
That's why at Brokers' BackOffice, we specialise in leveraging innovative technology for efficient loan processing. Our advanced software tools, automation, and data security measures can help you streamline your loan origination process, reduce processing time, and minimise risk.
With our help, you can focus on building relationships with your clients and growing your business while we take care of the back-office work.
In this article, we will explore how our Sydney-based outsourcing firm uses technology to improve loan processing efficiency for mortgage brokers and how we can help you stay ahead of the competition in a rapidly changing industry.
Key takeaways
Innovative technology can help streamline loan processing, improving speed and accuracy.
Outsourcing the loan origination process to a specialised firm can save costs while reducing errors and compliance issues.
Data security is crucial for lenders and brokers – secure document management systems and encryption technologies must be used.
Brokers' BackOffice provides high-quality loan processing services to help mortgage brokers grow their businesses.
What is loan processing?
Loan processing is collecting and verifying borrower information, evaluating borrowing capacity, examining documents, and preparing and lodging home loan applications. The loan processing workflow typically involves multiple parties, documents, and regulations, making it time-consuming and complex. However, with the right technology and expertise, loan processing can be streamlined and optimised for speed, accuracy, and security.
What are the different types of automation available in loan processing in Australia?
Loan processing is a complex and time-consuming process that requires meticulous attention to detail. Residential mortgage brokers in Australia use various automation tools to help streamline their processes. Some of the most popular and latest automated processes are as follows: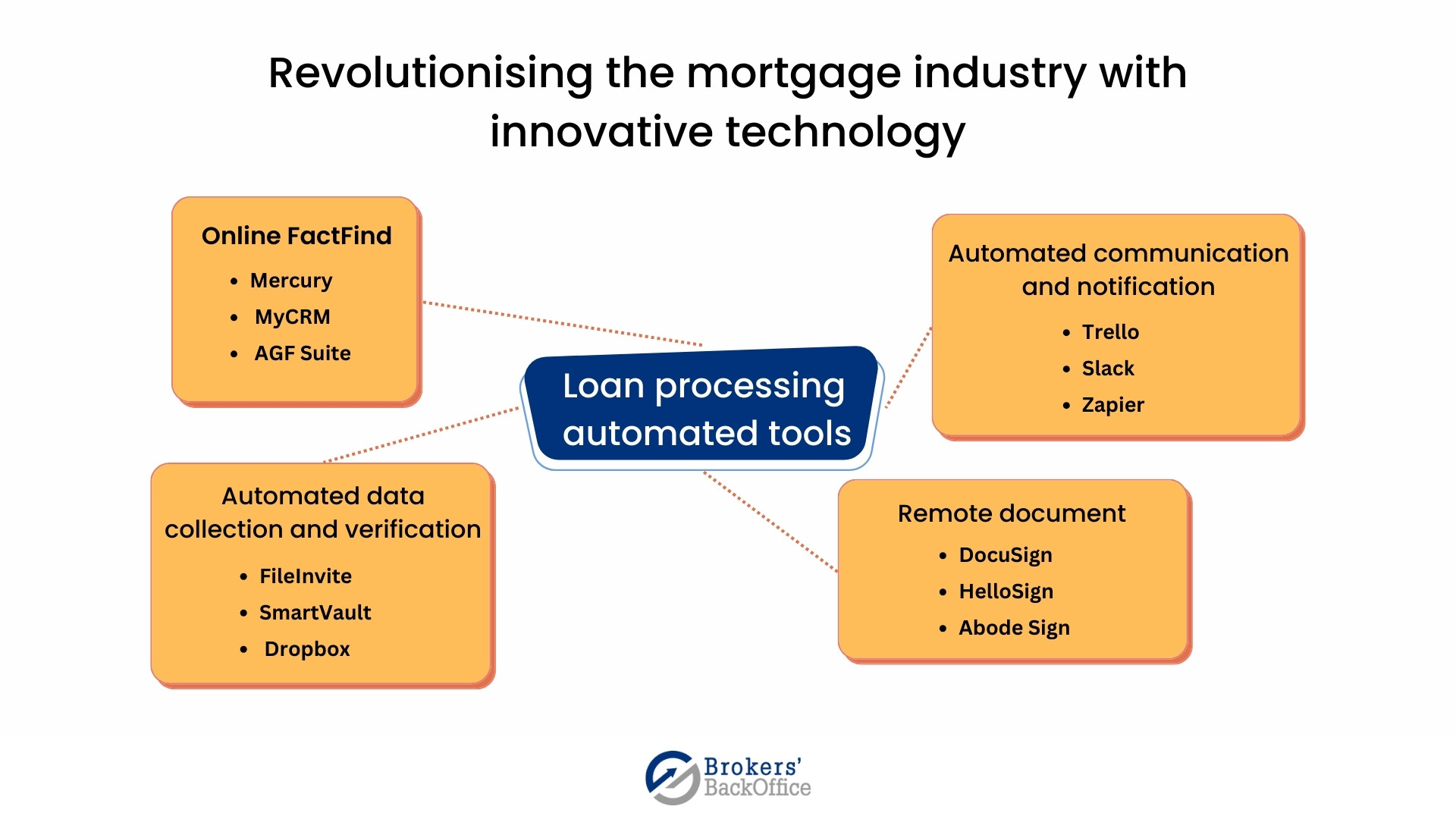 Online FactFind

Online FactFinds are revolutionising the Australian mortgage broking industry, replacing traditional PDF-based methods. Online FactFind offers seamless CRM integration, enhanced data analysis, and an improved client experience.

Many aggregator groups are developing online FactFind functionality for their brokers, simplifying workflows and ensuring efficient data management. By adopting Online FactFinds, Australian mortgage brokers can provide a more efficient, client-centric service, staying ahead of the curve in an evolving industry.

Popular aggregators' CRMs supporting online FactFinds include:

Automated data collection and verification

One of the most time-consuming aspects of loan processing is data collection and verification. Thanks to advancements in technology, many mortgage brokers have implemented automation tools in their systems to make sure loan processing is done efficiently. Some of the most opted and reliable tools are:

FileInvite: A cloud-based document management solution, FileInvite streamlines the process of collecting and managing client information and documents. It features customisable templates, automated reminders, and app integrations.
SmartVault: SmartVault is a cloud-based document management solution enabling users to securely request, collect, and store files from clients. It offers e-signatures, audit trails, and granular access control for enhanced security.
Dropbox: A widely-used cloud storage service, Dropbox allows users to store, share, and manage documents with ease. It offers collaborative features and seamless integration with various apps and platforms.
Lightico: Lightico is a customer interaction platform that assists businesses in collecting documents, e-signatures, and client payments through a user-friendly interface, making the document collection process more efficient.
Google Drive: A cloud-based storage and collaboration service, Google Drive enables users to store, share, and access documents across devices. It seamlessly integrates with other Google services and offers real-time collaboration features.
OneDrive: Microsoft's cloud storage solution, OneDrive, allows users to store, share, and collaborate on documents. It offers seamless integration with other Microsoft services and provides robust security features.

And you know what's the best part? Our experienced team members at Brokers' BackOffice are well-versed in all of them. Our main aim is to help you scale your business by offloading your workload.

Automated communication and notification

Loan processing necessitates effective communication and coordination among brokers, lenders, and borrowers. Modern outsourcing firms employ automated notifications to keep clients and brokers informed about their application status, including any requirements for additional information or documentation.

This approach promotes progress in the lending process, minimises errors, and enhances overall efficiency.

Trello: A visual project management and collaboration tool that helps organise tasks and track progress, facilitating effective communication and coordination among loan processing stakeholders.
Slack: A popular team messaging and collaboration platform that streamlines communication, integrates with other tools, and enables efficient information sharing during the loan processing journey.
Zapier: An online automation tool that connects various apps, streamlining workflows and improving communication.
ClickSend: A cloud-based service offering SMS, email, and other communication solutions to facilitate effective communication during loan processing.
MailChimp: An all-in-one marketing platform providing email marketing services and automation tools, ensuring seamless communication throughout the loan process.
Twilio: A cloud communication platform that enables businesses to engage with clients using voice, SMS, and other channels, fostering efficient communication during loan processing.

Remote document signing and verification services

Remote document signing and verification services have become essential in the lending process. There are secure and reliable digital document signing and verification services that enable customers to sign and verify documents from anywhere. This eliminates the need for physical signatures, which can be time-consuming and inconvenient, especially for customers living farther away.

Check out the latest ones widely used in Australia:

DocuSign: It is a cloud-based digital signature platform that allows businesses to securely sign, send, and manage electronic documents. It offers advanced authentication options and integrates with many popular business applications.
HelloSign: This is another digital signature solution that simplifies the signing process by allowing users to sign documents from anywhere and on any device. It also offers features such as templates, document tracking, and custom branding, making it a popular choice for small to medium-sized businesses.
Adobe Sign: This digital signature solution integrates with Adobe Acrobat DC and other Adobe apps, making sending, signing, tracking, and managing digital documents easy. It also offers advanced security features, such as two-factor authentication and encryption, to ensure document security.
SignNow: It is a cloud-based electronic signature software that allows businesses to sign, send, and store documents online. It offers advanced features like in-person signing, templates, and integrations with popular business apps like Salesforce and Dropbox.
PandaDoc: This document automation platform offers electronic signature functionality and document creation, tracking, and management features. It integrates with various other tools, such as Salesforce, Hubspot, and Zapier, making it a versatile solution for businesses of all sizes.

By leveraging technology and adopting practical solutions for offsite loan processing, Brokers' BackOffice helps mortgage brokers streamline their loan processing operations, reduce costs, and provide an exceptional customer experience.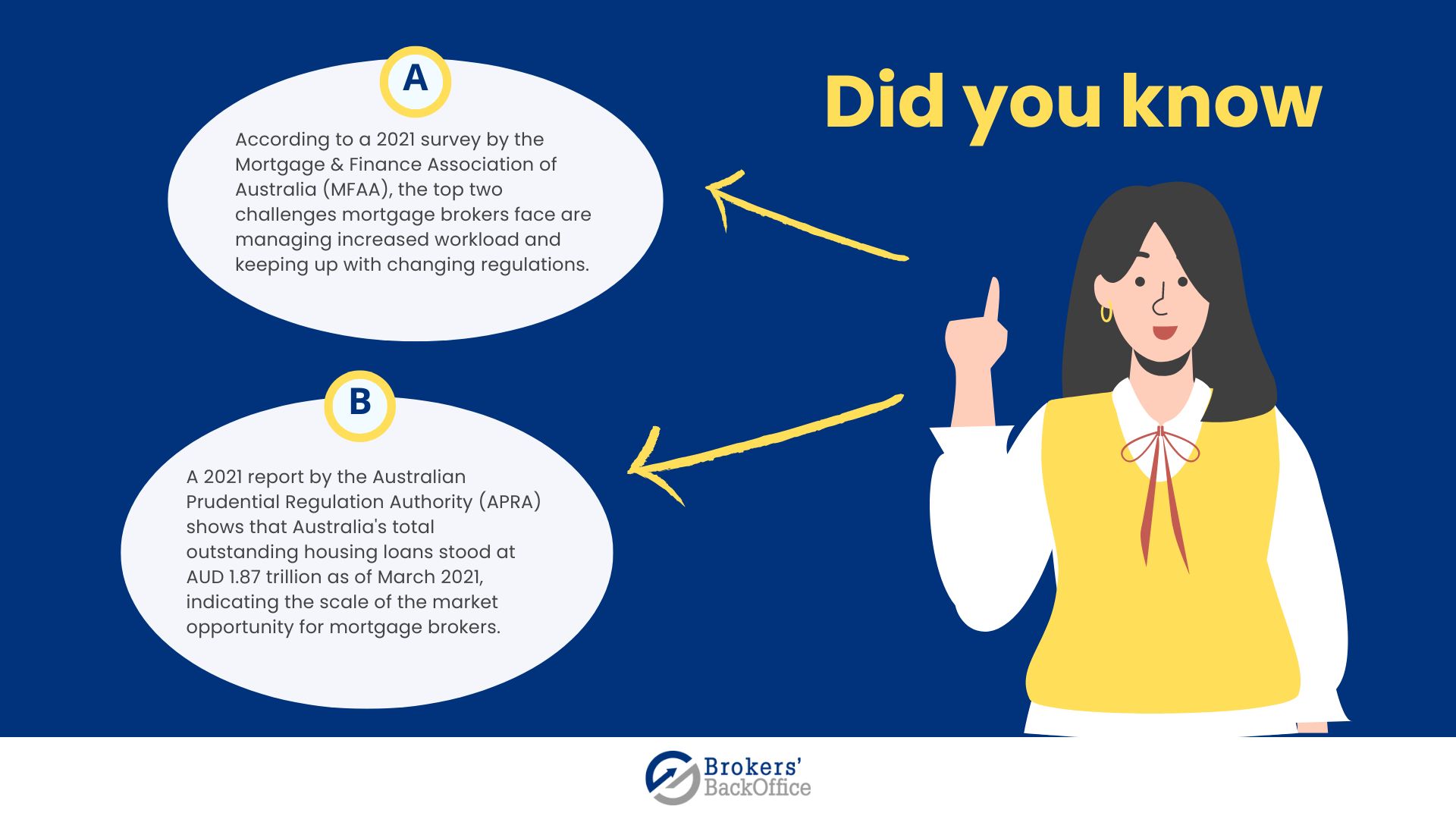 What is the importance of data security in loan origination processing?
Data security is paramount in loan processing, given the sensitive and confidential nature of the information involved. Various measures are used to ensure the safety of the client's data.
Encryption is one of the primary data security measures used at Brokers' BackOffice. We use industry-standard encryption protocols to protect data in transit and at rest.
This ensures that any data transmitted between our servers and the client's device or stored on our servers is encrypted and, thus, unreadable to anyone without the proper authorisation.
In addition to encryption, we implement access controls to ensure that only authorised personnel can access the data. This includes setting up role-based access control, which limits access to data based on job roles and responsibilities.
For example, a loan processor may only access the data relevant to the loans they are working on, while a manager may access a broader range of information.
We also regularly back up all client data to ensure it can be recovered during a disaster or system failure. This ensures that our client's information is always safe and secure, even in unexpected circumstances.
What are the latest tools and technologies used by our outsourcing firm in Australia?
At Brokers BackOffice, we work with mortgage brokers and use the tools and technologies that they use. In addition to using the tools that have been discussed, we also use other advanced tools and technologies, including:
Quickli

Quickli is a serviceability calculator tool that combines over 20 lender calculators into an easy-to-use interface that delivers accurate results and relevant policy insights, even for complex scenarios.

Sherlok

Sherlok is a powerful pricing and repricing tool that uses advanced AI algorithms to predict which clients are most at risk of leaving and prioritises them for repricing first. It helps brokers to retain and keep these clients happy.

BrokerEngine

BrokerEngine is a mortgage broker software that streamlines the mortgage application process. With features like custom workflows, document management, and integrations with external tools, it helps brokers manage their workload and improve client experiences.

Trello

It is a project management tool that uses boards, lists, and cards to help teams organise and prioritise their tasks and projects.

Slack

It is a team communication and collaboration platform that allows team members to send messages, share files, and collaborate in real time.

Optical character recognition (OCR)

This innovation allows for the automatic recognition and extraction of text from scanned documents, reducing the need for manual data entry and increasing accuracy.

ChatGPT

ChatGPT is an artificial intelligence language model designed to understand and generate human-like language and can be used for a variety of tasks such as answering questions, generating text, and providing recommendations.

Electronic signatures

These platforms, such as DocuSign and Adobe Sign, make it easier to obtain signatures from borrowers, improving the customer experience and reducing the need for paper-based processes.

Cloud-based document management systems

Cloud-based document management systems, such as GoogleDrive, OneDrive and Dropbox, enable loan processing teams to securely store and share loan documents, improving collaboration and reducing the risk of data loss.

Overall, using these tools and technologies helps our outsourcing firm in Australia provide faster, more accurate, and more secure loan processing services for our clients.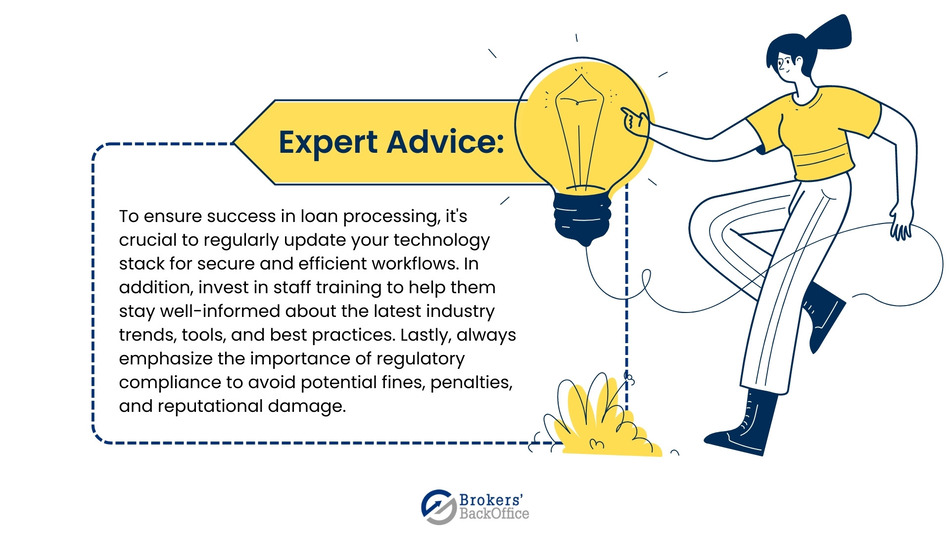 What are the benefits of the offsite loan originating process with Brokers' BackOffice?
In the competitive world of loan processing, speed, accuracy, and security are crucial for success. Thankfully, innovative technology offers a solution. Outsourcing loan processing to Brokers' BackOffice can be highly beneficial to mortgage brokers who can reap numerous benefits, such as:
Faster processing time

With advanced software tools and automation, loan processing can be completed more quickly and efficiently, reducing the time it takes to close loans and improving customer satisfaction. The turnaround time for processing using our pay per application model is 24 hours.

Improved accuracy

Technology can help reduce errors in loan processing by automating tasks, minimising data entry, and providing real-time data and feedback.

Cost savings

By outsourcing loan origination to a specialised firm like ours, companies can save on staffing, training, and infrastructure costs while reducing the risk of errors, delays, and compliance issues.

Data security

With secure data management systems and encryption technologies, lenders and mortgage brokers can protect sensitive consumer information from theft, fraud, and cyber threats.

Better customer experience

By streamlining loan processing and providing faster, more accurate, and personalised service to borrowers, mortgage brokers can improve customer satisfaction and retention rates.

At Brokers' BackOffice, we leverage technology for efficient offsite loan processing. Our team of experts has the experience and expertise to handle all aspects of the loan processing workflow, from document management and verification to credit analysis and underwriting.

By partnering with us, mortgage brokers can enjoy the benefits of technology-driven loan processing while freeing up time and resources to focus on growing their businesses.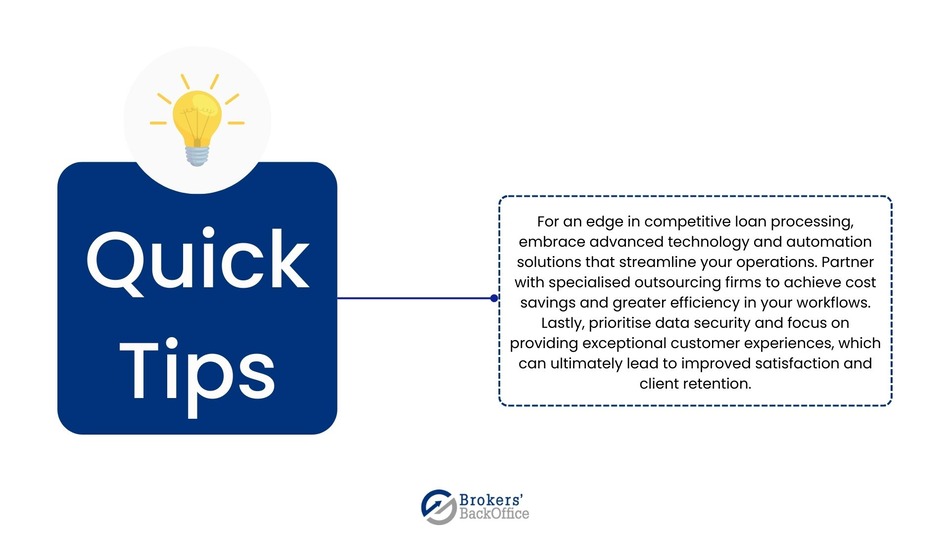 Final Note
Leveraging technology for the efficient offsite lending process is essential for any mortgage broker looking to streamline their operations and improve customer satisfaction.
At Brokers' BackOffice, a reputed Sydney-based outsourcing firm, we offer a range of software tools, automation solutions, and data security measures that can help your business thrive in the competitive Australian market.
Our dedicated team members are committed to providing exceptional service and support, whether you choose our pay per application or dedicated team member options. With our help, you can focus on growing your business and serving your clients while we take care of the back-office tasks that can bog you down.
If you are ready to take your loan processing to the next level, contact Brokers' BackOffice today and let us help you achieve your goals.