by Anshu Lukka |

Apr 01, 2023
Why email marketing for brokers should be top priority in 2023
Introduction
Picture this: you're a broker trying to attract new customers and keep current ones engaged. You have a limited marketing budget and need to make every penny count. What's the solution? Email marketing! It's affordable, effective, and has a high ROI.
This type of online marketing has been shown to generate substantial profit for every $1 spent, making it one of the most cost-effective marketing channels available. But that's not all. It also allows you to personalize your message, target specific segments of your audience, and track your results.
In this blog post, we'll explore why brokers should embrace email marketing and how they can use it to attract and retain customers. Whether you're a seasoned broker or just starting out, this post will provide you with the tips and insights you need to take your business to the next level.
Why choose email marketing for your real estate agent business?
Did you know that email marketing has the highest return on investment (ROI) for your marketing dollar? It can generate $36 for every $1 spent when done correctly. What's even more impressive is that Australia's click-through rate for email marketing in 2020 was 3.1%, the highest in the world.
In comparison, other digital channels such as Facebook, Instagram, and pay-per-click search and display ads have much lower click-through rate. The best part? Sending follow up email can be done at a minimal cost or even for free. This makes email marketing an incredibly valuable way to market your real estate business and generate leads.
How email marketing can complement your lead generation strategies?
Maintain relationships with clients that last

One of the benefits of email marketing is the ability to stay on top-of-mind and build relationships with customers. As a broker, building strong relationships is key to your success, and regular email communication with helpful and useful content can establish trust and credibility with home buyers and nurture leads.

By doing this, you'll ensure that when your clients need help in the home buying process in the future, they'll think of you first. For example, sending a welcome email to one of your customers as soon as they sign up on your website can be a good indicator of how much you value their presence in your business.

Drive traffic to your website landing page and other digital platforms

Another benefit of email campaigns is its ability to drive traffic to your website. By including links to your blog posts and other valuable information in your targeted emails, you can easily direct your subscribers to your website. As a result, you can increase website traffic, which can lead to higher rankings with search engines like Google compared to the digital platforms of other real estate agents.

Gain credibility for your business

Email campaigns can also help brokers position themselves as experts in the real estate industry. Given that the industry can be confusing to a client, they often require guidance from someone they trust. By regularly sharing industry knowledge and valuable content with your customers through email, you can establish yourself as a reliable and trustworthy expert in your field. This can help build your credibility and ultimately, your real estate agency.

Gain automation with an email marketing software

With the right email marketing software, brokers can automate their email marketing campaign, saving time and effort while still maintaining effective communication with their personal connections. This email marketing automation feature in email marketing software allows you to schedule emails in advance, so you don't have to worry about manually sending them out every week or month and thereby save time.

Get access to measurable results

Real estate email marketing platforms provide detailed metrics and insights that help mortgage brokers to evaluate the effectiveness of their email campaigns. They can track open and click-through rates, bounce rates and unsubscribe rates, which provide valuable information about how well their emails are performing. By monitoring these metrics, brokers can make adjustments to their email campaigns and optimize their content to increase engagement and conversion rates.

Increase client engagement with personalisation even with past clients

Personalization in real estate email marketing can help brokers establish a deeper connection with their client and leads, making them more likely to engage with their content and take action. Personalization can take many forms, such as including the recipient's name in the subject line or greeting, sending targeted content based on the recipient's interests or past behavior, or tailoring the email's message to address the recipient's pain points.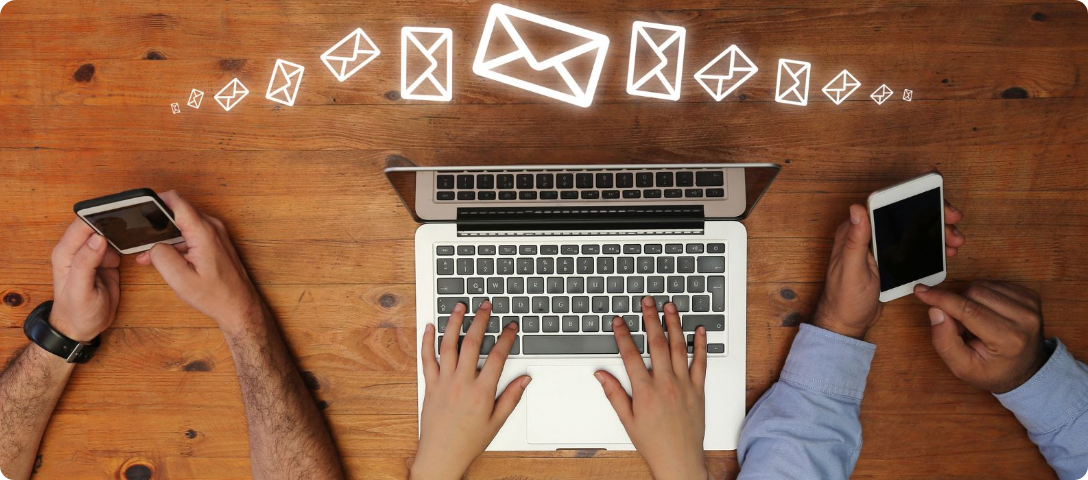 How to create an effective email marketing strategy?
Here are some tips for you to consider while creating a successful real estate marketing emails strategy for potential clients that guarantees maximum click-through rate.
Define your audience and create targeted email lists for buying leads.
Create attention-grabbing subject lines that are relevant to the content of the email.
Use a clear and concise message that is easy to read and understand.
Include a clear call-to-action that directs the recipient to take a specific action.
Use visually appealing graphics and images that complement the content.
Opt for mobile optimization, as a significant portion of the email is opened on smartphones and tablets.
A/B tests different email elements, such as subject lines, content, email templates and call-to-actions, to see what resonates with your audience.
Segment your email list based on recipient behavior and interests to send more relevant content about the real estate industry.
Personalize your emails using recipient data of potential buyers, such as their name or past behavior.
Monitor and analyze your email metrics, such as open and click-through rate, to continually improve your strategy for acquiring new leads.
Be careful of these issues before venturing into email marketing
Never do the following while considering realtor email marketing as your marketing tactic.
Do obtain consent from your email recipients before sending them any promotional real estate emails. This can be through a signup form on your website or a checkbox on a loan application.
Do establish a consistent sending schedule even for a welcome email that strikes a balance between keeping in touch with clients and avoiding inundating their inboxes with the help of automation features of email campaign software.
Don't make your emails too salesy or pushy. Instead, focus on providing value and education based on the real estate market to your clients
Don't use too many images, flashy email templates or large attachments in your emails, as this can slow down load times and lead to lower engagement.
Never send unsolicited emails to your potential clients since they can end up in their spam.
6 best email marketing software to try out!
There are many email marketing tools available in the market and choosing a specific one can be difficult and overwhelming. But our task is to simplify the process for you and here we have compiled the top email marketing software that you can use for your campaign. Keep reading to find out more.
1
Swift Digital
Swift Digital, a software developed in Australia, has become a popular choice for email marketing. The software not only provides email marketing services but also automation for various marketing channels, including events, SMS, and surveys.
Its servers are securely located in Australia, ensuring the protection of user data. Moreover, Swift Digital offers customized training, personalized support, and individual account management, providing a unique and attentive service to its users.
2
Campaign Monitor
Campaign Monitor is an email marketing tool that offers a user-friendly interface for creating professional, customized emails that can be easily published to managed email lists. The software provides a wide range of tools and features to support effective email marketing campaigns.
Additionally, Campaign Monitor offers an accessible API, allowing for easy integration with other applications. It also boasts a robust email testing capability to ensure emails are delivered correctly and look great in any inbox.
3
Marketo
Marketo is a marketing automation software designed to cater to the needs of large mortgage businesses that require bulk communication capabilities. The software provides a comprehensive suite of advanced automation tools to streamline marketing activities.
While it may be relatively expensive due to subscription fees, it offers accessible customer support and a straightforward account setup process.
4
MailChimp
MailChimp is a well-known email marketing software that provides a free account option, making it accessible to both beginners and experienced professionals. While the free account has some limitations, it offers an easy-to-use drag and drop email editor and clear, understandable reporting.
However, some of its features may be limited, and the depth of reporting analysis may not be as extensive as other software on the market.
5
SendInBlue
SendInBlue is a cost-effective and user-friendly marketing application that provides most of the necessary features at an affordable price. However, its email design capabilities may be limited. On the bright side, SendInBlue offers a multi-channel communication solution that includes SMS marketing features.
The software offers various monthly plans that cater to the different needs of businesses, making it a practical choice for many organizations.
6
GMass
GMass is a powerful email marketing software designed for businesses and individuals looking to streamline their email marketing campaigns. With GMass, users can send mass emails and personalized email campaigns directly from their Gmail account.
The software offers a wide range of features, including the ability to schedule emails, track opens and clicks, and automate follow-up messages. GMass also provides a robust email verification tool that ensures email deliverability and reduces bounce rates.
Wrapping up!
In conclusion, email marketing is a powerful tool that brokers can use to build relationships with clients, drive traffic to their websites, and position themselves as experts in the industry. By implementing the tips and best practices outlined in this article, brokers can create effective email marketing campaigns with automated workflows that deliver measurable results and help grow their mortgage broking businesses.
With its low cost and high ROI, email marketing is a no-brainer for brokers looking to expand their reach in business and engage with their clients in a meaningful way. So, start planning your next email marketing campaign today and see the positive impact it can have on your broking business.
Let Broker's BackOffice be your partner in helping out with administrative tasks while you drive your email marketing campaign. As you grow more leads, we will support you in effectively managing those leads. Contact us today to get started.